Garmin Zumo XT and inReach Mini2 Sale:
Garmin Zumo XT GPS Units and locking mount packages are $100 off retail price (499.99 and 699.94) from June 4th through the 24th. inReach Mini 2 is priced $50 off retail through June 18th! Discounted prices are displayed on the product page. Place your order now to get the discounted price even if the page showing temporarily out of stock!

2-Liter Canister with spout, Black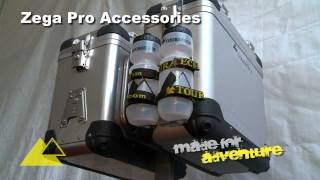 The perfect way to carry spare engine oil - OUTSIDE the pannier. Fits perfectly with our bracket kit: 070-0522 which can be mounted to any flat surface.
Dimension of the bottle is 9" x 5 3/4" x 3" (10.5" tall including the cap). Canister opening is 18mm wide if spout removed. 2 Liters is a little more than 1/2 gallon.
NOTE: For safety reasons we recommend AGAINST using external canisters to carry fuel. Please consider Part # 070-0573 for fuel transport.
Safe Shopping.
Guaranteed.
Your safe shopping experience is protected by EV SSL certificate technology with 256-bit RSA encryption.
EZ RETURNS.
No Restocking Fees. No Problem.
We want you to be HAPPY. If your order is not everything you dreamed, we'll fix it. Whether it's the wrong size or just not what you wanted, you can return it for a refund. We'll never charge a restocking fee for items returned in new unaltered condition within 60 days. Just return the item and we'll issue a full refund to the original payment method.