Garmin Zumo XT and inReach Mini2 Sale:
Garmin Zumo XT GPS Units and locking mount packages are $100 off retail price (499.99 and 699.94) from June 4th through the 24th. inReach Mini 2 is priced $50 off retail through June 18th! Discounted prices are displayed on the product page. Place your order now to get the discounted price even if the page showing temporarily out of stock!

Upper Crash Bars, BMW F800GS / ADV / F700GS, 2013-on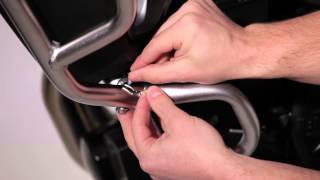 BMW F800GS / ADV / F700GS Upper Crash Bars - Touratech Upper Crash Bars offer the most protection for your BMW F800GS / ADV or F700GS because they are designed to take the impact of a fall and transfer the forces effectively around your motorcycle.
Fairing, radiator, and front fork repair is expensive and can put an end to your trip. Invest in Touratech upper crash bars and give your F800GS / ADV or F700GS the protection it needs to go the distance.
The compact and narrow design of the Touratech crash bars maximize manueverability when off road or traveling in the backcountry. The heavy duty one inch diameter stainless steel tubing and tig welded construction offers superior strength and maximum protection. These stainless steel upper crash bars won't rust and will remain corrosion free and looking great on even the most serious adventure expedition.
The designers at Touratech payed close attention not to spoil the nice lines on the BMW F800GS / ADV & F700GS's fairings. These crash bars perfectly match the BMWs' lines and accent the aggressive look of the GS.
Touratech crash bars were the choice of BMW Motorrad when they outfitted (70) F800GS motorcycles for the GS Trophy competition in South America.
The crash bars for F800GS, F700GS, and F650GS are designed to mount along with the stock BMW engine crash bars or Touratech lower crash bars part # 048-5155.
The crash bars for F800GS Adventure Model are only compatible with the original BMW OEM lower crash bars and are not compatible with TT lower crash bars.
For extra storage, add Touratech Crash Bar Bags to your crash bars.
Safe Shopping.
Guaranteed.
Your safe shopping experience is protected by EV SSL certificate technology with 256-bit RSA encryption.
EZ RETURNS.
No Restocking Fees. No Problem.
We want you to be HAPPY. If your order is not everything you dreamed, we'll fix it. Whether it's the wrong size or just not what you wanted, you can return it for a refund. We'll never charge a restocking fee for items returned in new unaltered condition within 60 days. Just return the item and we'll issue a full refund to the original payment method.