Holiday Deals!
Save $100 on Zumo XT GPS Units and $125 on Zumo XT Packages through December 27th. Click
HERE
for more Holiday specials.
Touratech Companero Rambler Men's Jacket
Touratech Companero Rambler
The Companero Rambler jacket is purpose-built for adventure riding by Touratech and REV'IT. It combines the highest levels of armor protection and GORE-TEX ProShell waterproof comfort while pushing ventilation cooling to new levels with its forced-induction zipper system.
There are three things a riding suit needs to do well for adventure riding: Keep you protected from impacts, keep you dry in bad weather, and provide cooling air-flow when the weather gets warm or the riding gets challenging. The Companero Rambler is best-in-class in all three areas. It also has an incredible array of well-designed pockets to accommodate wallet, keys, phone, and more.


*CLICK HERE FOR FITMENT GUIDE*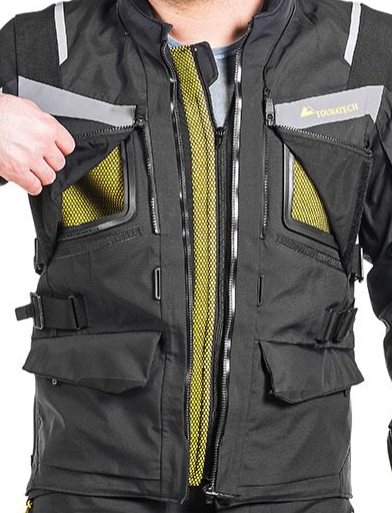 FORCED INDUCTION AIRFLOW – Next-level cooling is provided with the REV'IT VCS (Ventilation Control System) which includes the innovative double chest zipper that creates a 3 cm (1.2 inch) wide vent running the entire length of the jacket, delivering a huge volume of air to the upper body. The second zip ensures that the jacket remains securely closed while still allowing airflow through the mesh ventilation panel. The outer zipper can be closed to guarantee the jacket is fully wind and waterproof! The amount of airflow can be controlled by adjusting the height of the outer zipper.

Additional VCS cooling airflow is provided through 2 vents on the upper arms, 2 large 3D vents on the chest, and 2 exhaust vents on the back of the jacket. The chest vents have a flap that can be opened to create large airflow openings for direct cooling of the body. The flaps are held open, flutter-free, by FIDLOCK magnetic closures that can be operated with one hand. When closed, the AQUADEFENSE system keeps the chest vent 100% wind and waterproof! All VCS vents are backed with Aero-Cool 3D BALLISTIC MESH fabric.
VCS (Ventilation Control System) Overview
1 Double-zipper vent (35 square inches) of airflow through three-dimensional ballistic mesh.
2 Large chest vents with VCS AquaDefense ventilation flaps on the chest (ladies via ventilation zip)
2 Arm vents with zipper closures located on the upper arm
2 Exhaust vents, with zipper closure, are located on the back maximizing the VCS cooling system




ARMOR PROTECTION – The Touratech Compañero Rambler has a comprehensive set of high-tech armor providing protection to the back, shoulders, elbows, hips, and knees. These protectors are located in places to maximize protection even with the vents fully open. Elbow and knee protectors have adjustable heights to fit a wide range of body types. The back protector is in a pocket made of open-pored 3D mesh to improve breathability and ventilation. All armor is tested and meets the safety standards for CE certification.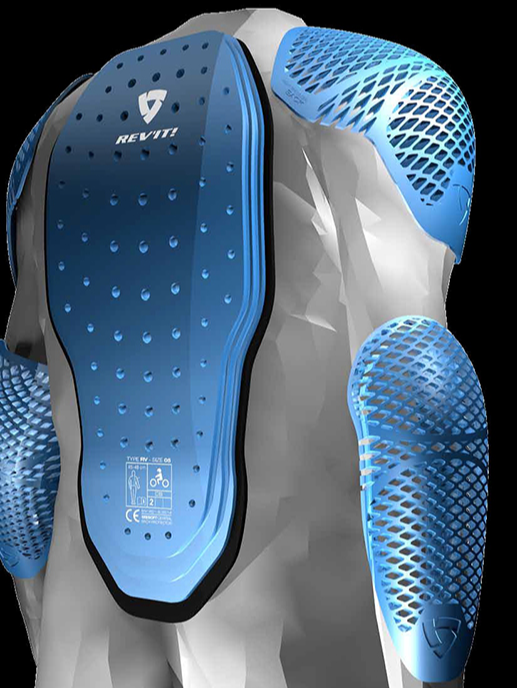 Shoulder, Elbow, and knee pads are crafted from SEEFLEX, a modern material and innovative design that provides flexibility and breathability while meeting the highest CE level 2 standards for protection.
A large back protector of SEESOFT, a high-impact blend of multi-layer nitrile polymers and polynorbene rubber, provides a flexible back without sacrificing comfort, ventilation, or freedom of movement. Impact energy is distributed by deformation of the individual layers of memory foam, which minimizes the impact of force on the back and spine meeting CE level 2 standards for protection.
Hip protection created with flexible SEESMART pads which expand in the event of an impact, absorbing the energy through the many hexagonal nubs.
Optional chest protection available in SEESOFT, a high-impact blend of multi-layer nitrile polymers that are flexible for comfort, while providing ventilation or freedom of movement.

WATERPROOF DURABILITY - GORE-TEX Pro 3-layer laminate is used extensively in the Compañero Rambler, with double layers in key areas and abrasion-resistant ARMACOR material reinforced with KEVLAR threads for added protection. The jacket also features 3M SCOTCHLITE reflective material for improved visibility in low light conditions.
GORE-TEX® Pro 3-layer laminate waterproof protection
ARMACOR® with KEVLAR® in high wear areas
TIZIP® and YKK® zips for an absolute waterproof seal
FIDLOCK® magnetic closures for one hand operation
3M™ Scotchlite™ reflective material for visibility and safety in low-light conditions




INTEGRATED MIDLAYER – The Rambler Jacket comes with an integrated mid-layer that fits perfectly in the jacket for adding warmth on cool mornings or when you ride into the mountains. This warming layer zips into the outer jacket and is made of HYDRATEX Windbarrier, a 3 layer laminate with a super-soft inside surface. The mid-layer jacket makes for great casualwear for your post ride activities and features 3 zipper pockets for keys, phone and wallet.





ERGONOMICS AND FIT - A European cut favors a snug fit and minimizes extra material to keep the suit as light as possible. Adjustable compression straps at the chest, back, calf and forearm can be cinched down for slipping cleanly through the wind. The zips at the jacket hem allow stretch zones for maximum freedom of movement and comfort. The integrated, detachable kidney belt with a small zipped pocket stabilizes and supports the lower back and provides a secure place for credit cards or small change, and it can be stored invisibly in the lining of the jacket when not in use.
STORM COLLAR - The high-cut, adjustable, fully removable, or foldable storm collar with GORE-TEX Pro 3-layer laminate is 100% windproof and waterproof. The chin area is made of soft, skin-friendly neoprene.
CONVENIENT POCKETS – Plenty of pockets help manage wallet, keys, phone, snacks, and other essentials with easy access and secure waterproof storage.
2 x jacket outer pockets (waterproof) with zips
1 x large pocket on the back of the jacket (waterproof) with zip
2 x jacket inner pockets with zip
2 x credit card pockets inside jacket
1 x pocket in kidney belt with zip
3 x pockets in the leisure jacket with zip


*CLICK HERE FOR FITMENT GUIDE*
FREE SIZE EXCHANGE - IF IT DOESN'T FIT, INCLUDES UPS EXCHANGE LABEL
Safe Shopping.
Guaranteed.
Your safe shopping experience is protected by EV SSL certificate technology with 256-bit RSA encryption.
EZ RETURNS.
No Restocking Fees. No Problem.
We want you to be HAPPY. If your order is not everything you dreamed, we'll fix it. Whether it's the wrong size or just not what you wanted, you can return it for a refund. We'll never charge a restocking fee for items returned in new unaltered condition within 60 days. Just return the item and we'll issue a full refund to the original payment method.