Garmin Zumo XT and inReach Mini2 Sale:
Garmin Zumo XT GPS Units and locking mount packages are $100 off retail price (499.99 and 699.94) from June 4th through the 24th. inReach Mini 2 is priced $50 off retail through June 18th! Discounted prices are displayed on the product page. Place your order now to get the discounted price even if the page showing temporarily out of stock!

Expedition Skid Plate, BMW F800GS / ADV, F700GS, F650GS Twin, 2008-on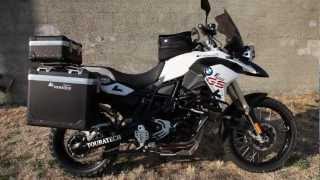 BMW F800GS / GSA, F700GS & F650GS Twin Skid Plate - A motorcycle as off road capable as the BMW F800GS, F700GS, or F650GS Twin deserves proper protection for the engine. The heavy duty Touratech skid plate offer the best protection for the front and underside of your BMW twin's motor.
Made of 4mm thich aluminum alloy, this engine guard is designed to give the maximum protection during hard hits on rocks, stumps, or bottoming out the bike off-road. The folded ridges give the aluminum material best stability and rigity while also keeping the most ground clearance possible for this big adventure tourer.
The F800GS skid plate is mounted using 6 attachment points on a stainless steel base plate. This thick baseplate is engineered to distribute the load of an impact around a larger area of the engine.
Two plastic sliders which are installed independently of the skid plate prevent mud and dirt buildup and protect the mounting bolt heads from impact. The plastic sliders are removeable and replaceable, look great, and help the big bike slide over rocks and stumps when riding off road.
This skid plate is also designed to protect the BMW F800GS, F700GS, and F650 Twin's vulnerable front mounted oil filter and cooler. It extends upward in the front to provide full coverage to these two vital components, offering protection from rock and debris impacts from the front tire.
Safe Shopping.
Guaranteed.
Your safe shopping experience is protected by EV SSL certificate technology with 256-bit RSA encryption.
EZ RETURNS.
No Restocking Fees. No Problem.
We want you to be HAPPY. If your order is not everything you dreamed, we'll fix it. Whether it's the wrong size or just not what you wanted, you can return it for a refund. We'll never charge a restocking fee for items returned in new unaltered condition within 60 days. Just return the item and we'll issue a full refund to the original payment method.